Our Philosophy & Commitment
We built our business upon listening to our customers and offering what they need. This customer-centric philosophy is part of our unwavering commitment to go beyond the expected for our customers and our community.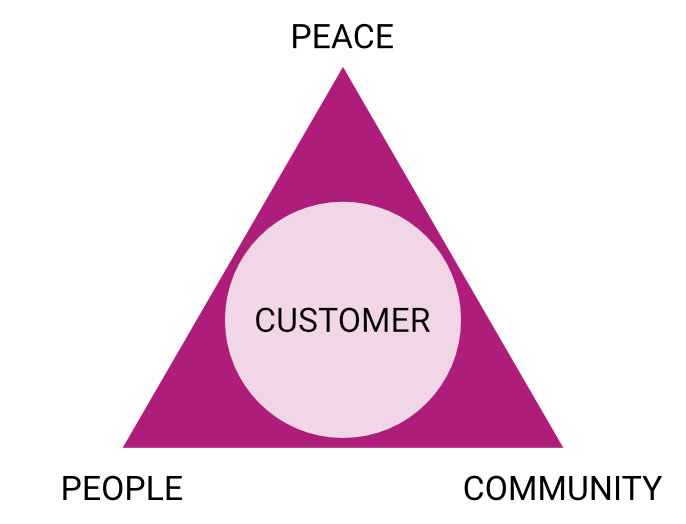 Our Principle
Our Principle regardless of how times may have changed, is to serve the 'Customer First'. We are always mindful of the three keywords which make up the essence and character of the retail industry and must be considered in any development: 'peace', 'people' and 'community'. Ours is a person-to-person business and our existence is deeply intertwined with the people of the regions and societies in which we serve. These precepts remain the same wherever we do business, where we act as a contributing member of the local community.
Our Strategy
Our Strategy is to establish a solid competitive position and achieve continuous growth. Two key components underlying this strategy are:
Accelerating Shopping Center Development

We are channeling our resources towards developing attractive, integrated commercial facilities which our customers can fully enjoy, such as regional shopping center and neighbourhood shopping center. This segment also involves leasing shopping space and facilities to tenants.

Aggressive Pursuit of GMS Stores

Our General Merchandise Stores (GMS), which combine supermarkets and departmental stores under one roof, operate as full-line retailers. Products offered range from food and other daily necessities, apparel and household goods (including bedding and bathroom products) to specialised products such as home appliances, sporting goods and cosmetics.
Our Goal
Our Goal is to operate as an "international-scale retailing group", recognised for excellence not only in Japan, but also in other nations. The international recognition we are working to achieve is not one which can be measured merely in quantifiable terms of size, growth and profitability. We hope to be competitive at the global level in intangible aspects such as customer satisfaction and corporate citizenship. We are dedicated to the idea of "quality management" to further enhance our capabilities.