From our humble start in Japan, we've made an indelible mark in the Malaysian retail industry and have expanded our horizons far beyond.
Overview of AEON's Ecosystem
The AEON Group practices agility with a seamlessly connected network and infrastructure of touchpoints to accommodate any consumer's needs whatever the situation or preference.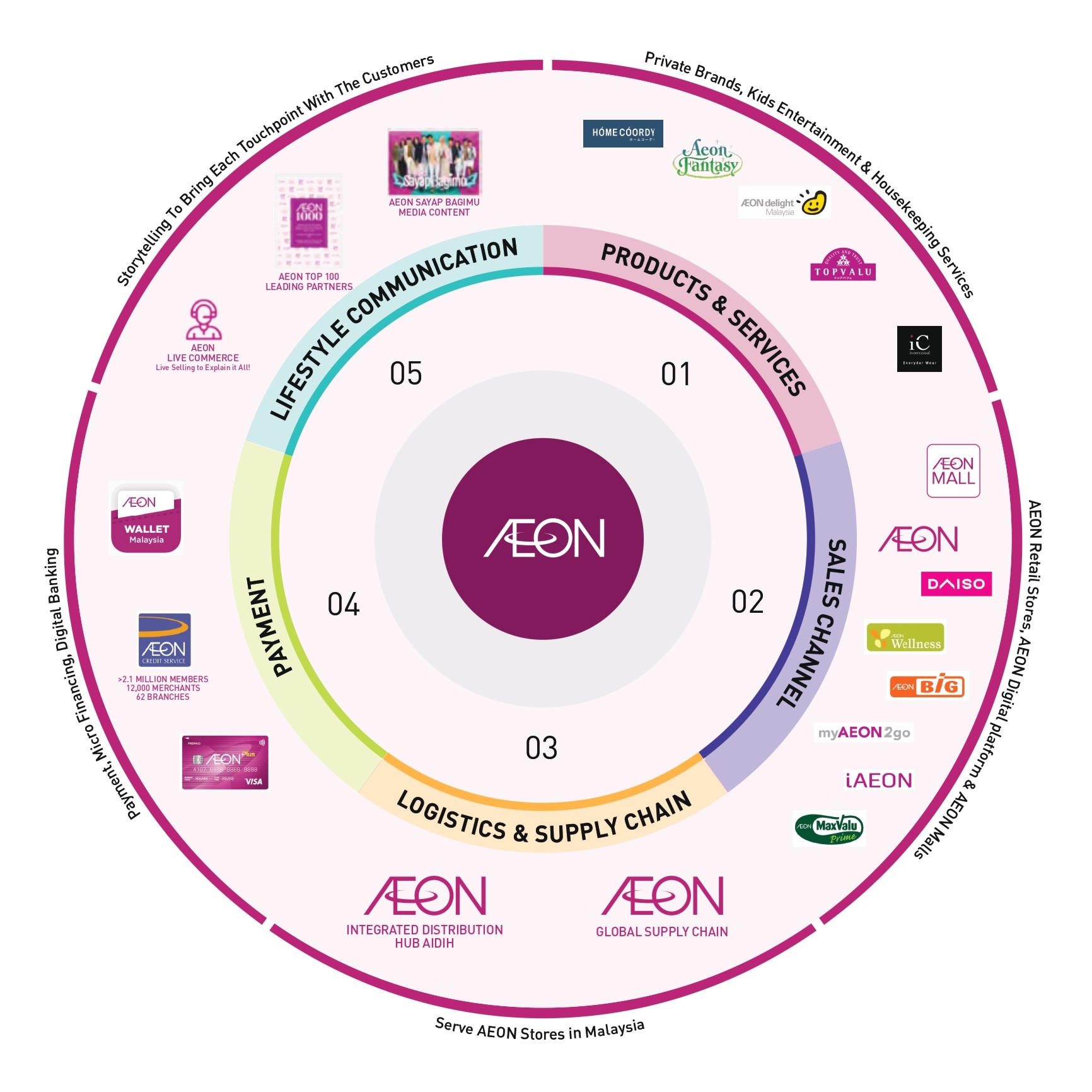 Redefining Malaysia's Retail Landscape
With every retail store of ours, we create opportunities and bring value to customers and communities around the globe. In Malaysia, AEON is a leading General Merchandise Store cum Supermarket chain, with 34 AEON Stores, 28 AEON Mall, 8 AEON MaxValu, 60 AEON Wellness, 45 Daiso and 21 AEON BiG across the country.
Bringing Our Business Virtual
At AEON, we are continuously adapting to fit our customers need. myAEON2go allows our customers to shop from the comfort of their own home. It's the same high quality service and products, just made more convenient. 
A Fresh Approach to Finance
AEON Credit Service was initiated with a mission to provide a wide range of consumer financial services to help maximise life's opportunities. Our core business lies in consumer financing, hire purchase installment plans for consumer durables and motor vehicles, personal financing and issuance of payment cards.
AEON Financial Service Co., Ltd Japan and AEON Credit Service (M) Berhad applied for a digital bank license in Malaysia in 2021. ADB was incorporated on 19 July 2022 to build and operate the digital banking business in Malaysia.
Creating More Possibilities
As part of the financing options we provide, the AEON Credit service offers a wide range of credit cards and prepaid cards to enrich our consumers purchasing experience.
AEON Member Plus (AMP)
It is with gratitude that we accept every customer that chooses to shop with us. The AEON membership was formed to reward those who have supported us in every step of our journey.
Making a Difference in Our Community
At AEON, our ambitions go beyond sustaining a successful business. As part of our corporate responsibility, we aim to use our strengths to care for those who need it. With this intention in mind, the Malaysian AEON Foundation was established in 2004, marking us as the first retailer in Malaysia to start its own charitable foundation.