'JIMAT POKET' BY AEON A 100-day initiative as part of measures to reduce the rising cost of living

Kuala Lumpur, 31 May 2022 – AEON CO. (M) BHD. (AEON) announces 'JIMAT POKET' today, a 100-day initiative in collaboration with its business partners that runs from 1 June 2022 to 16 September 2022 as part of measures to reduce the rising cost of living.
The 'JIMAT POKET' features two bundles comprising essential items such as rice, cooking oil, noodles, crackers, coffee, sugar, and the likes for customers to choose. The RM60 bundle comprises 15 commodity goods while the RM100 bundle has 18 commodity goods.
Shafie Shamsuddin, Managing Director/Chief Executive Officer of AEON said, "We are grateful to introduce 'JIMAT POKET' in our endeavour to ensure that the price of essential products will not inflate drastically and to allow some space for customers to adapt to the current market landscape. Collaboratively with our business partners, we want our customers to know that their concerns are heard. We strive to ensure the best service is delivered as their interest is always at the heart of everything that we do."
The 'JIMAT POKET' initiative was announced at the AEON1000: Suppliers & Partners Conference 2022 (AEON1000) held at the KL Convention Centre, Kuala Lumpur.
AEON1000 drew approximately 1,000 participants comprising the movers and shakers of various industries including FMCG, food manufacturing and production, logistics and supply chain, financial services and many more.
Themed 'Creating Sustainable Communities', the hybrid conference seeks to culminate the transformational actions from across stakeholders to thrive in a new retail landscape, while pursuing shared growth to create sustainable communities given the challenges facing the Malaysian economy as the country forges ahead to a post pandemic phase.
Datuk Iskandar Sarudin, Chairman of AEON said, "At AEON, we are committed in moving our sustainability journey forward by partnering and growing together with the stakeholders. We always believe that a sustainable business is one that not only prioritises financial returns, but also protects the environment, nurtures its employees and uplifts its communities and the ecosystem."
At the event, participants were also introduced to the AEON Sustainability Charter, the highest form of commitment by AEON towards championing Environmental, Social and Governance (ESG) and aligned with the United Nations' Sustainable Development Goals. 37 companies consisting of AEON's Merchandise, Tenant, and Corporate partners were awarded the AEON1000 Excellence Awards in various categories. The awards were presented by Yang Berhormat Dato' Haji Rosol Wahid, Deputy Minister of the Ministry of Domestic Trade and Consumer Affairs.
AEON1000 is in line with AEON's efforts in championing the United Nations Sustainable Development Goals – 8 and 17 that focus on promoting a peaceful and inclusive society for sustainable development, provide access to justice for all and build effective responsible and inclusive institutions at all levels; as well as strengthening the means of implementation and reviving global partnerships for sustainable development.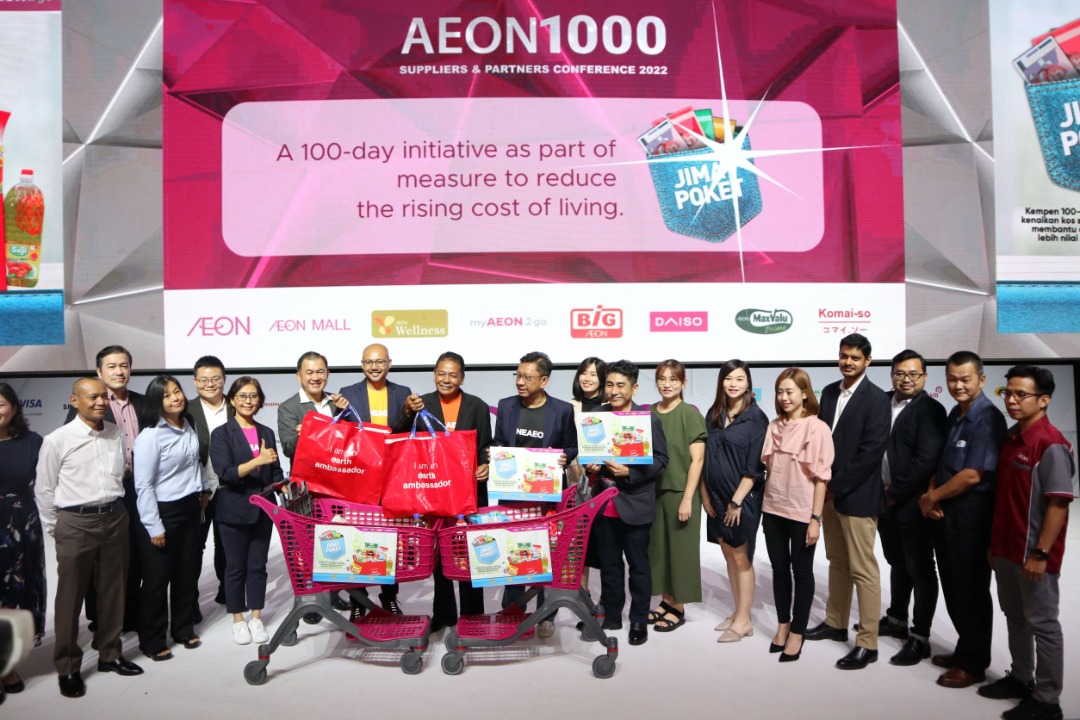 Share This Story