AEON INTRODUCES 'KUIH RAYA KITA' AS FIRST NFT SERIES

AEON works with rising artists to immortalise 8 types of "Kuih Raya Kita" through NFT
Kuala Lumpur, 27 April 2022
In conjunction with its 'Raya Penuh Makna' campaign, AEON CO. (M) BHD. (AEON) introduces the first ever Raya-inspired NFT series focusing on the origin of eight signature 'kuih', or sweet traditional pastries namely the Pineapple Tart, Biskut Mazola, Biskut London Chocolate Almond, Biskut Makmur Daun, Biskut Cornflakes, Biskut Dahlia, Biskut Suji Ball and Biskut Semperit Butter.
Low Ngai Yuen, Chief Merchandise and Marketing Officer of AEON, commented on the first Raya-inspired NFT series, "The intention of this collaboration stretches beyond the extension of celebrating Raya in the digital sphere; but also, to support Malaysian artists. We want to validate their excellent work – in line with the theme of our overarching purposeful Raya campaign, 'Raya Penuh Makna'. When we introduce blockchain technology to preserve what we hold dear as tradition, culture and art, we are breathing life into what is not celebrated enough."
The first NFT series, 'Kuih Raya Kita', designed by Malaysian food artist Afi Sulaiman, is also inspired by nostalgic feelings of being back in the kampung, particularly for keepsakes and community living. The series has 16 designs for AEON members to collect; the first edition is redeemable for free until 1 May 2022, with each edition limited to 1,250 pieces.
Afi Sulaiman is an illustrator and writer who first earned a reputation for herself in the Malaysian creative scene in 2019 as a Balai Seni Negara's Young Art Entrepreneur. Since then, this young artist has been exploring and preserving Malaysian food culture through graphics and stories, including children's books, art prints, and many more.
"I would characterise my art as quirky, nostalgic, happy, and colourful, with an emphasis on local culture. It is a delight to highlight traditional Malay 'kuih' in this partnership with AEON, and I hope Malaysians enjoy these one-of-a-kind digital 'kuih Raya' as much as I loved making them", Afi Sulaiman also pitched in.
Alongside Meta Universe Sdn. Bhd. or MU, the selected partner who leverages on Web3 technology and elements from metaverse, digital assets and virtual infrastructure; the 'Kuih Raya Kita' NFT series is also key to community-building. Khalid Gibran, Chief Executive Officer of MU says, "This NFT series is innovating how AEON is communicating with their customers. By giving the customers an experience that is now an asset that they can own tangibly in the digital space, AEON is building a different kind of loyalty."
"We do want to do more – the retail ecosystem is made up of some of the world's most celebrated brands and iconic products with many personable stories and moments that should be captured. If we can succinctly digitalise these experiences, then we are already taking memories to a whole new reality virtually," Low Ngai Yuen added.
Also, AEON is introducing a special limited edition of NFTs via Discord under the same 'Kuih Raya Kita' series but what is noteworthy about this has to do with the containers that usually keeps the 'kuih'. This special series is made by the self-taught Malaysian artist, Izzati Suza, who also operates her own shop in Melaka; Kedai Suza, designing products that makes her artworks travel via apparels and other craft items.
Izzati Suza picked up art as a profession mostly thanks to the ups and down in her life. In her first ever NFT collaboration with AEON, Izzati highlights there are three main thematics that everyone can look forward to from 'Alas Meja Nenek', 'Quarantine Raya' and 'Raya Penuh Makna', with only 10 pieces produced for each theme.
"I am really leaning towards AEON's Raya theme for this year – 'Raya Penuh Makna'. It is indeed meaningful to be able to celebrate Raya with loved ones after a two-year lockdown. Continuing with how the pandemic have led many of us to adopt a digital lifestyle, we invite all Malaysians to get their hands on these unique Raya NFTs series to make this year's celebration even more memorable."
More information about AEON's Kuih Raya Kita NFT series can be found at https://aeonretail.com.my/promotion/kuihrayakita2022/NFT/
The Kuih Raya Kita NFT series is being launched in tandem with AEON's Ramadan-Raya campaign, 'Raya Penuh Makna.' More special Raya offers are available at www.aeonretail.com.my.
This initiative is in line with AEON's efforts in championing the United Nations Sustainable Development Goal – 8 and 17, focusing to promote a peaceful and inclusive society for sustainable development, provide access to justice for all and build effective responsible and inclusive institutions at all levels; as well as strengthening the means of implementation and reviving global partnerships for sustainable development.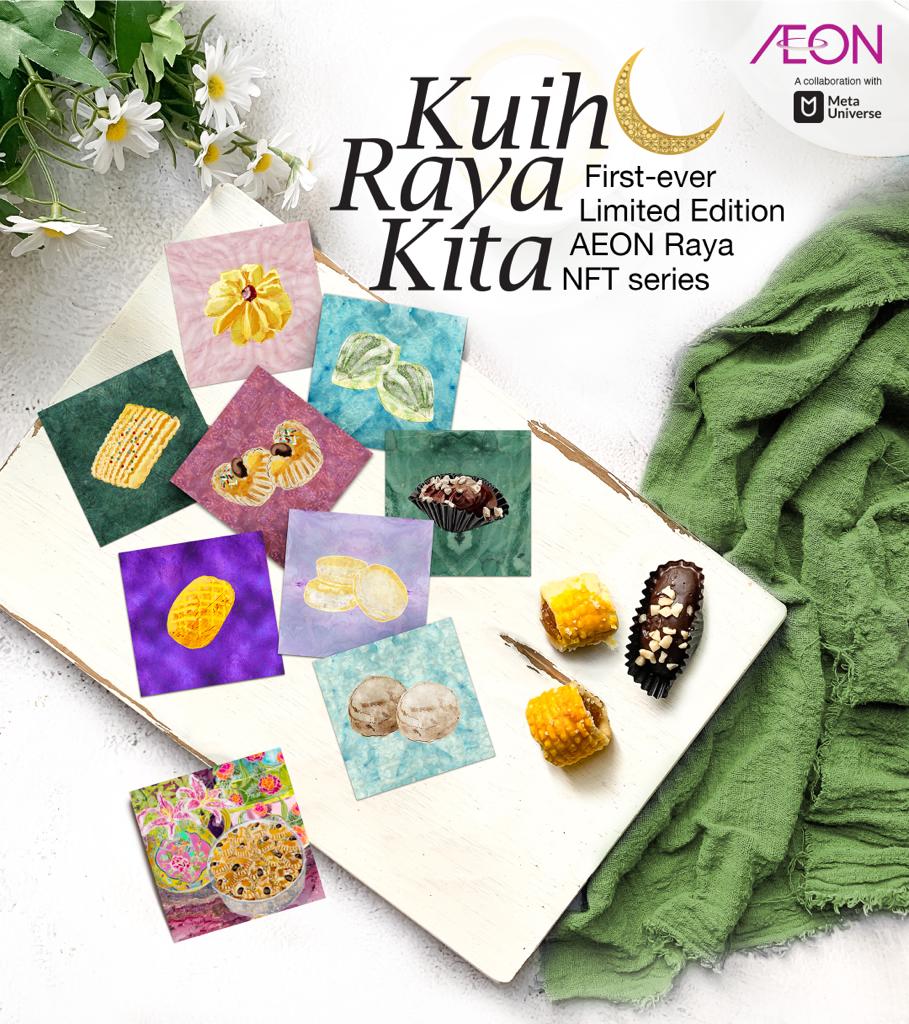 Share This Story