AEON AND MALAYSIAN FRANCHISE ASSOCIATION (MFA) 
COLLABORATE TO EMPOWER FRANCHISE ENTREPRENEURS
Kuala Lumpur, 8 March 2022
AEON CO. (M) BHD. (AEON) and Malaysian Franchise Association (MFA) signed a Memorandum of Understanding in a concerted effort to empower franchise entrepreneurs with MFA's memberships. 
The Memorandum of Understanding sealed enables AEON and MFA to explore their respective strengths and to mobilise efforts in providing a framework and the platforms to enhance competitiveness, marketing opportunities and promotion through knowledge sharing to support, develop and promote franchise businesses. 
Through this approach, efforts will also be made in expanding the franchise business to international level across the AEON ecosystem in countries such as Japan, China, Vietnam, Cambodia and Indonesia. 
Shafie Shamsuddin, Managing Director/Chief Executive Officer of AEON said, "We are very grateful to be able to work with MFA and its more than 500 members in our effort to drive the franchisees forward together. It is in line with the goal of sustainability initiative for the nation, AEON Sayap Bagimu, to support the development of franchise entrepreneurship and at the same time to boost the retail industry and help generate the national economy." 
"Prior to the pandemic, the contribution of the franchise industry to the country's Gross Domestic Product (GDP) was very significant. In 2018, the sector recorded a GDP's contribution of RM32 billion. Cognisant of the industry's vast potential, the interest of entrepreneurs to venture into franchise enterprises remain high, despite the current challenging situation. It is our hope that this collaboration can boost the development of the industry apart from producing highly capable franchisees who are able to handle the shift in consumers' buying patterns that are also moving towards digital platforms," added Shafie. 
MFA's Vice Chairman, Deric Yeo said, "The collaboration between AEON and MFA will be beneficial not only to our registered members to enhance their businesses but it will also be able to create more employment opportunities in the franchise industry for the locals. This is in line with the Government's intention to improve the living standards and help entrepreneurs to continuously flourish in supporting the momentum of our economic growth this year."
The signing ceremony of the Memorandum of Understanding which was held virtually on 7 March 2022 was officiated by Deric Yeo, Vice Chairman, MFA and Wan Muhammad Zainal Wan Yahya, Deputy General Manager, MFA. Meanwhile, AEON was represented by Shafie Shamsuddin, Managing Director/Chief Executive Officer and Sunny Setiawan, Chief Operating Officer. The session was witnessed by Nuramalina Ibrahim, Senior Principal Assistant Director, Franchise Development and Direct Selling Division, Ministry of Domestic Trade and Consumer Affairs (KPDNHEP). 
The ceremony was also attended by Mohamad Shukri Salleh, Secretary General, MFA; Members of the Main Committee, MFA; representatives from KPDNHEP; the management as well as employees of AEON and MFA. 
The Memorandum of Understanding also outlines several strategic partnerships that will benefit both parties, such as promoting AEON services or businesses to MFA members at special rates, giving priority to MFA members over AEON programmes to assist micro franchise entrepreneurs and provide opportunities for AEON to share its knowledge on retail and its innovations such as New Retail operations to franchise operators. 
This collaboration is in line with AEON's effort in championing the United Nations Sustainable Development Goal (SDG 8) that focuses on Decent Work and Economic Growth. It promotes sustained, inclusive and sustainable economic growth, full and productive employment and decent work for all.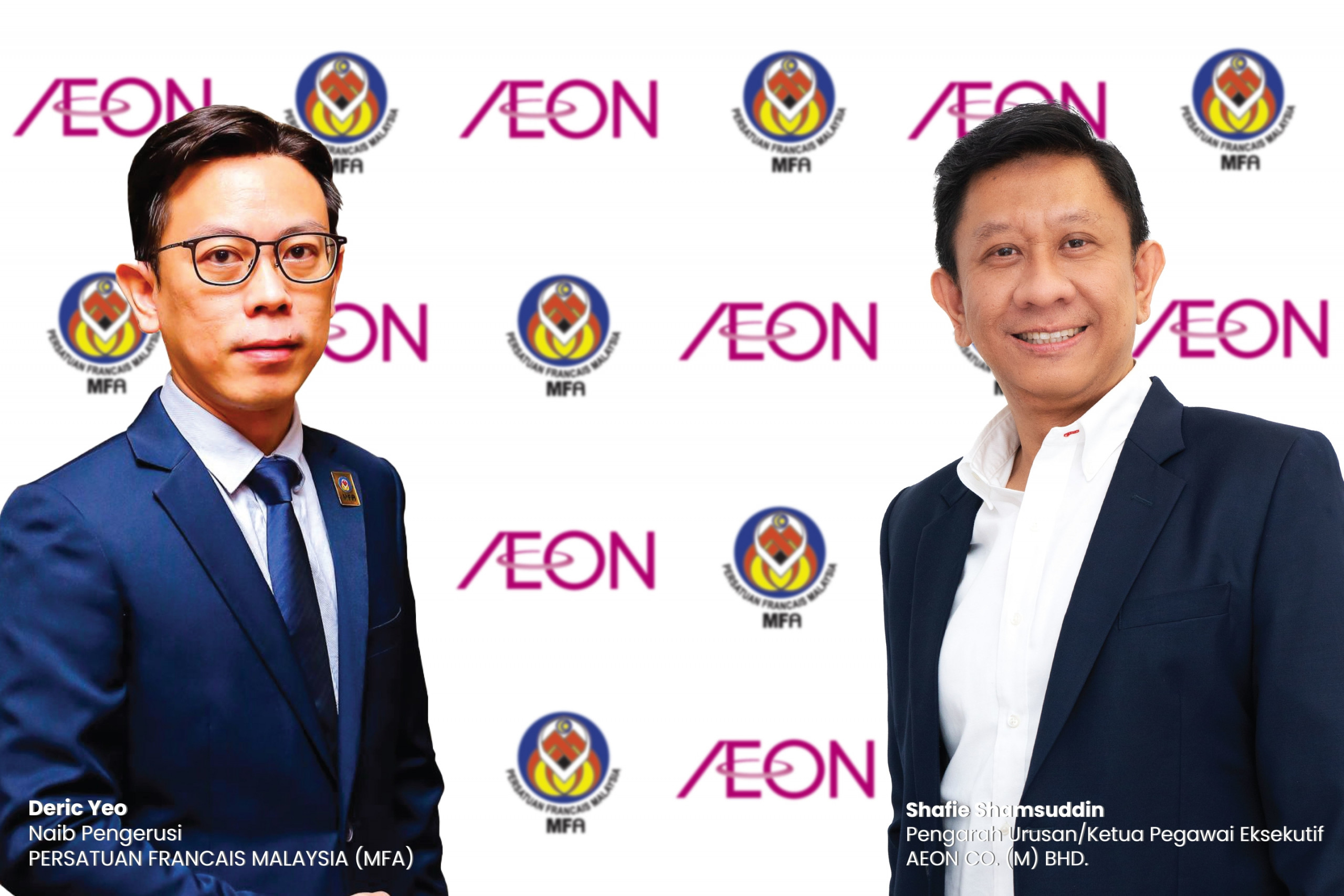 Share This Story